A place to be: Missouri church provides safe space
by | 06 Nov 2018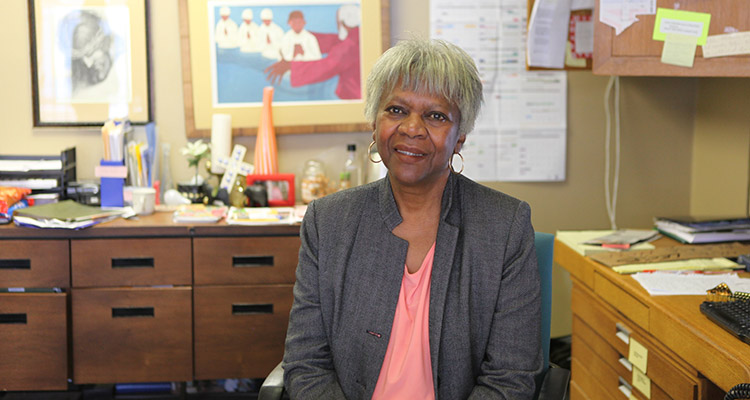 On a Friday morning, a group of women sits around a circular table, listening to a presentation on nutrition. They chat about eating habits that are both nutritious and economical. Later, they will make tuna salad together in a new commercial kitchen. 
The class participants, most of whom are without homes, are there for True Light Family Resource Center's day shelter, a place to learn, to rest, and to be. True Light FRC has been ministering to people in Kansas City, Missouri, USA, since 2002. That's when Pastor Alice Piggee-Wallack and the church she leads, True Light Church of the Nazarene, opened their doors to meet needs in an area downtown where approximately 30 percent of the population live below the poverty level. 
"We definitely wanted to create a safe space for women and children," Piggee-Wallack said. "The first thing I know about the day shelter is that it wasn't planned. I believe that God brought it about."
Emancipation Station
The idea for a ministry was born when Piggee-Wallack drove to a homeless shelter to pick up a friend for some volunteer work at the church. When she arrived, the shelter's doors were locked. Six women sitting on the building's front steps caught her attention; one was caring for two babies. Curious, she introduced herself and discovered that shelter offered services overnight only, and the women had nowhere to go during the day. 
"So I said, 'Get in the car!'" Piggee-Wallack said. 
Two trips later, all of the women were with Piggee-Wallack at True Light Church of the Nazarene's offices. As she spent the day with them, the pastor says their fortitude struck her. They used their time to look for jobs and housing. They looked after one another and helped care for the babies. 
In the following weeks, more groups came by. Realizing this was a problem without an easy solution, Piggee-Wallack sat down with church members to discuss what a day shelter would look like and pray for its creation. Emancipation Station — a day shelter for women — was born.
In the decade and a half since its inception, True Light has grown dramatically. The sheer scope of the center's programs is impressive. In addition to Emancipation Station, they run a short-term residence for women called Freedom House. Men are also welcome at a number of other ministries, including a computer center, clothing closet, diaper distribution center, and at community breakfasts — all there to help people change their stories.
A safe haven
Emancipation Station is, at its core, a safe space. Once the night shelters close in the morning, there are few safe places for women to spend the intervening hours until the shelters open again around 6:15 p.m. In Kansas City, where both heat and cold are extreme, a comfortable, dry spot is a haven from the elements. 
According to Patricia Porsche, manager and mentor for Freedom House, the day shelter is open seven days a week to provide consistency. 
"We're open for our homeless ladies no matter what the weather is," Porsche said. 
Women of all backgrounds and experiences are welcome, as are women in all stages of life; some of the women are in and out of homelessness or live in other forms of housing. 
"We don't care where a person is, we don't care what they've done, where they've been," Piggee-Wallack said. "The only thing we care about is where they're going. God loves you, and He has plans for you. Now, if you can accept that, you're welcome here." 
Because the women who stay at Emancipation Station are multifaceted, the shelter has been developed to match. It offers places to do laundry, shower, rest, and join together for a meal. The shelter also hosts a variety of classes on topics such as on nutrition, sewing, and knitting, as well as Bible studies and opportunities to hear from special speakers. 
"We want to get ladies engaged, and that helps us move them from where they are to where they want to be," Piggee-Wallack said. 
Mona Lisa Crouch has been coming to the day shelter for a while now. She learned about it from a friend, who initially introduced her to the Saturday morning breakfasts. When she discovered the showers and classes, she began coming regularly. 
"It's just awesome how everyone is treated up here, with such dignity and respect," Crouch said. "And nobody — nobody — thinks they're better than anybody else."
A depth of care 
The Freedom House is next door to the shelter in a well-decorated, two-story home, the first in a line of historic clapboard houses stretching for blocks. Up to five women can live there at a time, following an application and interview process. The program starts at 90 days, but women can stay up to a year if they're making good progress. 
At Freedom House, each resident is assigned a social worker who helps them set their own goals along with a plan for accomplishing them. Freedom House becomes a way station during periods of transition and change. 
"Going over there, it's not a shelter," said resident Ginellis Thurman. "It's your home." 
It's easy to see that if you go in. Downstairs, leather couches and armchairs overflow with throw pillows. Upstairs, each room is tidy and unique to the woman who lives in it. A Bible lies open on a bedside table, the text almost entirely highlighted. 
"This is a safe haven for ladies," Thurman said.
Engaged in community
Part of the agreement at both the house and the day shelter is that everyone lends a hand; Thurman was helping in the kitchen and paused lunch preparations to share about her experience. If the women at the Freedom House aren't spending a set number of hours helping at the shelter, they have to be working elsewhere or looking for work. 
Likewise, the women who come to the day shelter are expected to engage in the enrichment activities in addition to joining the community lunch. Crouch enjoys sewing — a class offered on Wednesdays and Thursdays. 
"[It's] relaxing," Crouch said. "Therapeutic, basically, for me." 
Wilma Postlewait and Ann Trent spearheaded the sewing classes four years ago. They have space for about seven women to be sewing at a time, using both sergers and sewing machines. The projects are simple but professional: pillowcases with perfectly straight edges, scented pot holders, and lanyards. Some women with housing make decor for their apartments, and others make clothes for themselves. The group has even started selling their work at a pop-up shop they share with a few other sewing groups from around Kansas City. 
"All Ann and I need to go home content at the end of our day is knowing that somebody was proud of what they did," Postlewait said. 
Sometimes, Ann and Wilma function as listening ears instead of sewing instructors. 
"When we first started, we were going to teach sewing," Trent said. "But a lot of times, it just comes to listening." 
"Or saying a prayer," Wilma adds.
Creating a relaxed atmosphere is central to all of True Light's ministries. 
"You don't have to pretend to be something you're not, and you don't have to put on a façade," Crouch said.
A Hard Environment
A single-night, nationwide count of both sheltered and unsheltered homeless people in 2017 revealed a total of 2,287 people experiencing homelessness in Kansas. About 85 percent were people who were sheltered in emergency shelters, transitional housing programs, or safe havens. But, as Piggee-Wallack discovered, those shelters aren't always able to provide the necessary resources and protection. 
Some of the women who come to Emancipation Station are survivors of abuse, both past, and current. For them, the shelter is a haven for many reasons. Others, like Crouch, come for the community. Sometimes, it's the only place where women can rest. But every person who walks through the door will know one thing: they are valued. 
"Regardless of our race, ethnicity, socioeconomic status, we share so much in common," Piggee-Wallack said. "And when we can actually see that, it makes it easier to be able to care for each other and to worship together."
--Republished with permission from the Winter 2018 edition of NCM Magazine
To read more stories of compassion, visit ncm.org to subscribe to NCM Magazine and receive future issues as they are released.