Authors gather in Mexico, aim to strengthen church through resources
by | 01 Feb 2018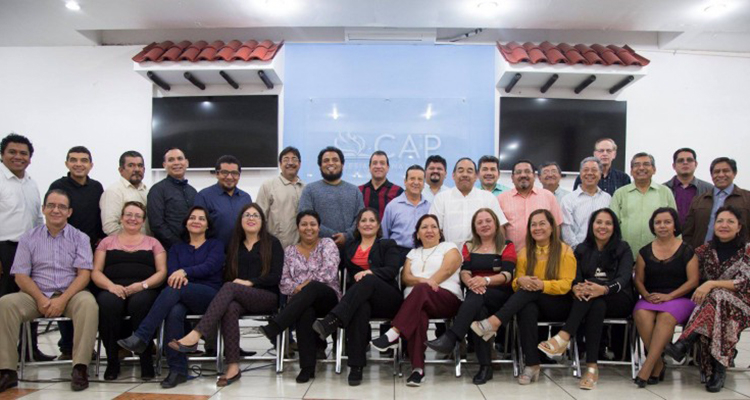 The Mesoamerica Region recently held its first Wesleyan Writers Development Meeting to train authors who can write theological books, lessons for regional curriculum, and other materials. There were 28 participants, representing the majority of Mexico's districts.
The event, held 6 to 8 December, sought to encourage, awaken a passion for writing, support and help grow writers, as well as enrich the Church of the Nazarene through new authors.
When Jorge Córdova, Mexico field strategy coordinator, received a conviction from God about this need for Mexico, he did not know that the Lord had planted the same concern in Rubén Fernández, regional coordinator of education and pastoral development for Mesoamerica. They talked about this dream and in less than a year it became a reality. This is the first of a series of meetings that took place in the region.
"The Lord still calls us to write the vision, just as he asked the prophet Habakkuk and the apostle John," Fernández said. "Probably no longer in tables or scrolls, but in the multiple forms of publication that exist in the digital age. What we write today will reach unimaginable places and will be a blessing to many people that we may never know in this life. As a result, the church will be strengthened and consolidated. We are grateful to God and to all those who made this event possible, which was undoubtedly a transformative experience for all of us."
Global Nazarene Publications through Scott Stargel provided housing, and the CAP Church of the Nazarene in Oaxaca hosted the event and supplied food. 
Ely Camas, president of Mexico Nazarene Seminary, worked with Córdova to select writers to participate. Mónica Mastronardi de Fernández, general editor for Mesoamerica, led the conference and shared during the morning workshops. Church of the Nazarene General Editor Frank Moore shared two workshops with Camas and Elías Betanzos, including interactive sessions and practical activities.
There was also a panel of experts composed of Monte Cyr, regional coordinator of discipleship ministries, Stargel, and Córdova. It was also attended by Wilfredo Marciaga, regional literature coordinator. 
Discussion groups included:
Qualities and disciplines of good writers
The creative process, originality, and the organization of ideas
The creation of short biblical reflections for mass dissemination
The research work: practical and ethical issues
Social problems and contextual challenges for the Church of the Nazarene in the Mexico Field