Nazarenes care for displaced children through Christmas Project
by | 06 Oct 2017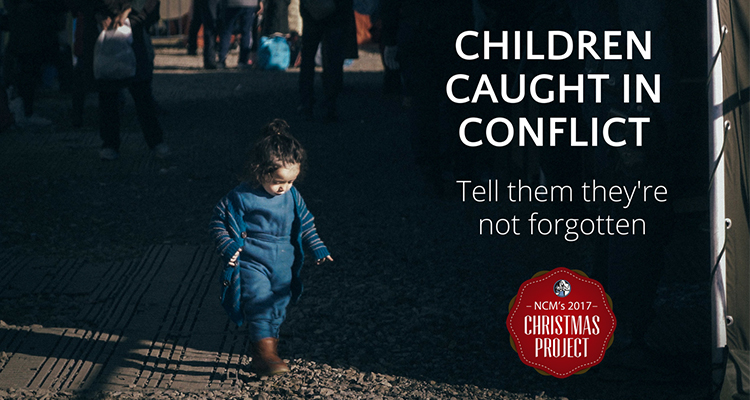 For children who have been displaced by conflict, the list of lost things can be long: home, consistent education, friends, stability, and sometimes even family members. Add to that other factors such as hunger, sickness, and isolation, and it's clear that children caught in conflict are truly vulnerable. This year, Nazarene churches are invited to support ministries to displaced children through an annual Christmas Project sponsored by Nazarene Compassionate Ministries.
Globally, 28 million children are displaced because of conflict, which means they are living as refugees, as asylum seekers, or internally displaced within their own countries. These children have been forced to flee because of conflicts they didn't choose. Nearly half of all child refugees globally are from Syria or Afghanistan. Other large percentages include children in the African countries of Somalia, South Sudan, Sudan, and the Democratic Republic of the Congo.
In many places, Nazarene churches are receiving children and families fleeing conflict with open arms and generous compassion. Families living as refugees often struggle to meet the most basic of needs. Many host countries do not allow refugees to work legally, pushing families into poverty. For example, in Lebanon, 70 percent of refugees live below the poverty line, and in Jordan that number jumps to 93 percent. In response, Nazarene churches in those countries provide ongoing food aid and medical care, as well as English classes and friendship to newcomers.
Nazarene schools are also helping children making up for years of lost education: Children living as refugees are five times more likely to be out of school than other children, according to UNHCR.
Ten-year-old Mark* and his family fled their home in Iraq when militant extremists told his family they would be killed if they didn't deny their Christian faith. They arrived in Jordan in the spring of 2017 and officially became refugees.
In Iraq, Mark remembers a happy home with his parents and older brother. Their home was full of joy and laughter, he says. He felt safe and secure there. After they fled, they "became used to cries and sadness," he said.
Still, he says his mother never gave up faith that God would provide resources.
One of those resources was a Nazarene school, which received Mark and his brother through scholarships provided by NCM's 2016 Christmas Project.
"I can't find the words to describe how grateful I am to my patient teachers, who will never give up on helping me," he said.
Eva* is also 10 years old. Her family fled from Syria two years ago to get away from the deadly fighting. Then her home life took on its own form of violence from an abusive father. Eva's mother anxiously sought help, but she encountered only closed doors—until she found a Nazarene church that offered help.
Several thousand miles north, Nazarene churches in Croatia and Ukraine are also offering to help children and families who have been displaced. The Church of the Nazarene in Zagreb, Croatia, has been intentionally reaching out and offering a safe space for people seeking asylum in the country.
In Odessa, Ukraine, a Nazarene church is welcoming families who have been displaced internally by violence. Many of the families have children or adults with specific needs related to disabilities.
This year's NCM Christmas Project will provide for the basic needs of children who have been uprooted, such as food, safe water, and winter blankets, as well as education.
To learn more or support NCM's annual Christmas Project, visit ncm.org/Christmas.
*Children's names are changed for their safety and protection.