USA/Canada congregations explore fully online churches
by
| 22 Jan 2021
画像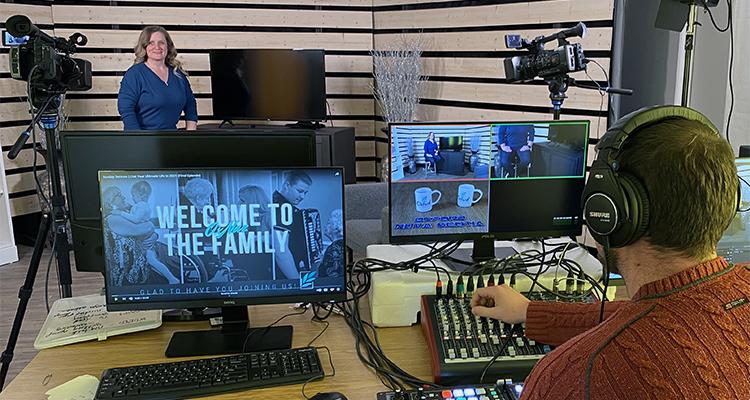 When COVID-19 lockdowns and restrictions caused many North American churches to re-evaluate their ministries, some pastors began exploring the concept of entirely online operations. 
Jodi Getson is the pastor of Oxford Church of the Nazarene in Nova Scotia, Canada. Getson initially thought of online video services as a temporary measure. However, the number of people tuning in was higher than their in-person attendance, and she found many people who were uninterested or unable to attend a normal brick and mortar location for Sunday service.
"We began to dive into this world of church online and what it means," Getson said. "[We realized] that there are disciples who will never go into our church that are listening online." 
That realization caused Getson to consider her strategy for online services.
"Is it just so that somebody heard your sermon or is there a discipleship plan?" she wondered. "Is there a place for them to grow from that?"
Getson feels that creating a church this way is emphasizing the "Go" in Jesus' command to "Go and make disciples."
"The difference between 'we're going to put our church online' and 'we want to be a church online' hinges on the 'go,'" Getson said. "We want to make it a church, a community where relationships are built, where discipleship happens, that literally goes where people are that need Jesus, that doesn't require them to come. It's a key shift in thinking."
Mike Wheeler is the pastor of Christ Agape Collective based in Edwardsville, Kansas. Recently, they registered as a church located "online." Wheeler has found that people love the accessibility of the format. 
"We have a pretty consistent number that actually sits there and watches us live," Wheeler said. "But we get a phenomenal number of views, hundreds throughout the week. I talk to people and they love the fact that while they may not be available Sunday morning for some reason, they can watch Monday morning at 5 a.m."
He noted that he's connected with many people who say they would never feel comfortable in a traditional church setting but have been exploring the online teachings and even accepting Christ as their Savior.
"We are reaching people that are hungry to learn more and are actually discipling people," Wheeler said. "We've had a few couples from the LGBTQ community that get on and they're watching us, asking questions, and they've made decisions for Christ. We're seeing progression, and it's just people that have felt like they wouldn't be welcome in a brick-and-mortar church. Some of them may be partiers or have fallen away for the Lord, and the online church is giving them an availability and confidence that they can start coming back."
Both Wheeler and Getson will be the first to admit that they're learning and adapting on the fly. Wheeler joked that there aren't a lot of textbooks about what works and what to do next. Ultimately, both pastors want to confirm that the Church can have a home online and that this format may be a big part of the future of the Church.
"Understanding digital ministry is going to be key for us going forward, and I don't think there is any question about it," Getson said. "It is key for churches to understand we are uniquely set up to expand and plant new churches and for us to be able to see that online is a place to plant a church."