Ohio woman determined to share gospel despite disability
by
| 15 Oct 2021
Image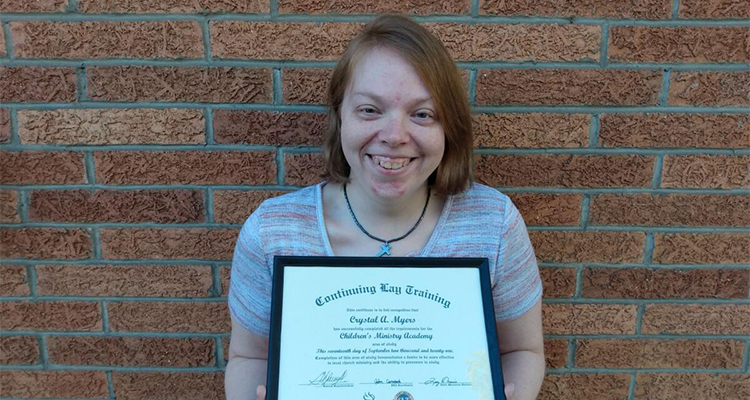 An Ohio woman is showing her community that God can use anyone to help further His kingdom.
When Carol and Jim Myers brought their newborn daughter, Crystal, home from the hospital 37 years ago, the doctors advised them that their daughter would not be able to function in society and instructed her parents to focus on her physical needs. Crystal exceeded the doctors' expectations and has lived a normal, happy life despite the fact that only half her brain is functioning.
Crystal recently felt called by the Lord to serve in ministry at her home church, Leavittsburg First Church of the Nazarene, where she has been assisting her mother, Carol, the children's and worship pastor, for many years. 
"Anytime I did anything with the kids, she always followed with me," Carol said. "But this past revival, she really felt God calling her into children's ministry."
After Crystal felt this calling from the Lord, she approached her mother and Lead Pastor Rick Swiger. They recommended she take a course, and she discovered The Discipleship Place's children's ministry course. 
"I told her just to try it," Carol said. "And she found the course to be something she could maneuver through with such ease. The courses are something that helped her fulfill her call and give her more confidence to be in the field God called her to."
Crystal was hesitant to try the course at first, but that apprehension disappeared as she began the coursework.
"I just couldn't keep my nose out of the books," Crystal said. "It was really easy to understand, no big words, and it was very interesting."
She finished the coursework quickly with no adjustments for her disability. Recently, the church and her family celebrated Crystal for completing the course, and the church has named her the director of children's ministries.
"She's now the third generation of children's ministry directors," Carol said. "My mom was a children's pastor, so am I, and now she's a children's ministries director."
Crystal says she loves children's ministry because of the students' passion to learn. She is confident that God will work through her to reach the children she ministers to, and she wants everyone to know that anyone God calls is able to fulfill his or her calling.
"Don't let anything hold you back," Crystal said. "You don't want to miss an opportunity [to serve God's kingdom]."
Carol is proud of her daughter's accomplishments. 
"Because of her, we're saying 'Look what God can do if you just let go and answer the call,'" Carol said. "I think that's the biggest message she wants to get across — that God can use anybody."