Nigeria's emphasis on missions spurs growth
by
| 10 Dec 2020
Image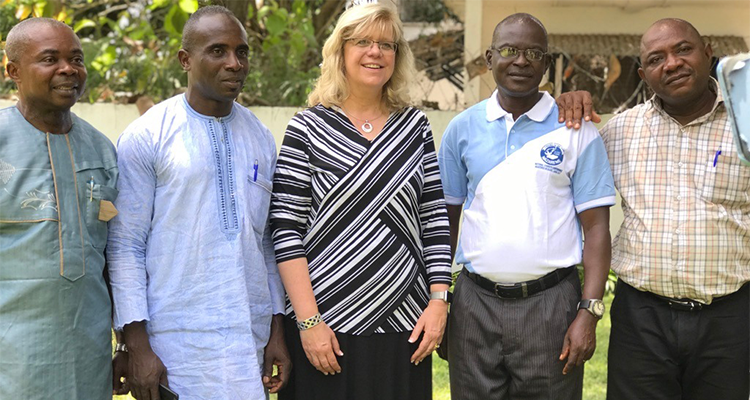 The Church of the Nazarene in Nigeria has grown through an emphasis on missions, sharing Christ with others just as the love of Christ was shared with a Nigerian soldier many years ago.
Dan Iwok, a Nigerian soldier, was serving with the alliance troops in Burma in 1946 during World War II. There he met several American soldiers, and among them was a Nazarene chaplain. Iwok was interested in learning about these soldiers' Christian roots, so he accepted when the chaplain offered him Gospel tracts as well as the 1944 Manual of the Church of the Nazarene. Iwok read them, placed his faith in Christ, and fell in love with the Nazarene church.
When Iwok returned to his home in Nigeria, he found a country that was becoming dissatisfied with the current practices. People were hungry for a new life, one marked by holiness and purity of heart. He found a newly formed church in southeast Nigeria that was searching for a name. Remembering the tracts and Manual that he was given, he showed the church leaders all that he had learned. They unanimously agreed to call themselves the Church of the Nazarene and organized themselves according to the Manual.  
This independent church worked for years to become a part of the international Church of the Nazarene, and on 3 April 1988, the congregation was authorized to join the Africa West Field. 
The church is growing throughout the Africa Region, and it is predicted that soon, one in three Nazarenes globally will be from the continent. The church in Nigeria has played a huge role in this growth, and the Nigeria Southeast District is now the first Phase 3 (self-supporting) district on the Africa West Field. 
One of the reasons this district has been so successful is its emphasis on missions. The Nigeria Southeast District has been involved in sending national missionaries all over the country, as well as planting churches in close-to-home communities. According to District Superintendent Okokon Eshiet, this process heavily involves the youth. They are a critical force, especially considering that the median age in Nigeria is 17.9 years old. 
Friday Udofia is a second-generation Nazarene who surrendered his life to Jesus during his teen years. In 1989, during a revival meeting in his home church, he felt God's calling on his heart. He was the only one who went forward to the altar that night, and he also settled his call to preach. 
"I gave up many other things I was doing and went off to Bible college to prepare for lifelong ministry," he said.
Later, while he was a student at Africa Nazarene University in Kenya, his perspective on ministry changed. 
"I became so missionary-minded that on my return back home, I went to my district superintendent and told him what the Lord is telling me," Udofia said. 
Rather than assigning him to a pastorate in the one state with established Nazarene work, the district sent him to a new state. His goal is to help bring the holiness message into all areas of Nigeria, including his home area in the northeast.
From its beginnings until the present day, Nigeria has emerged as a positive force for Christ on the Africa West Field and the Africa Region. With its long history of supporting and sending missionaries, Nigeria is well equipped for its leadership role in making Christlike disciples in Africa.