MVNU president renewed for 4-year term
by | 04 Nov 2016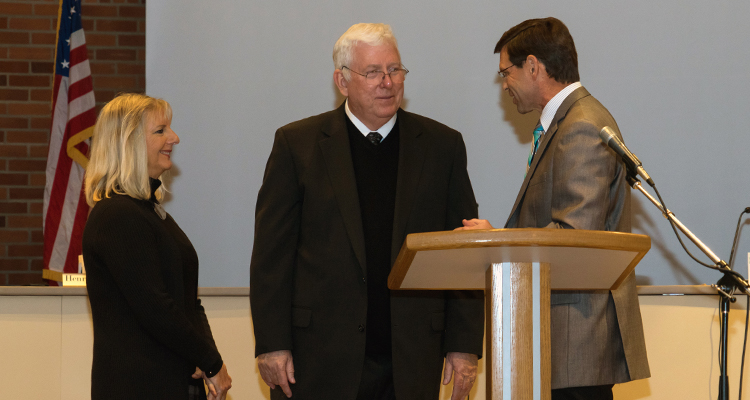 The Mount Vernon Nazarene University Board of Trustees unanimously passed a renewal vote for a four-year term of its seventh president, Henry W. Spaulding II, November 4. The MVNU Board of Trustees met November 3 and 4 for its biannual meeting.
"The unanimous vote of the MVNU Board of Trustees is a celebratory expression of confidence in the leadership of President Henry Spaulding," said Geoff Kunselman, Board of Trustees chair. "These are outstanding days for MVNU: increasing enrollment, new facilities and programs, and a tremendous sense of forward momentum."
Following the resignation of Dan Martin, Spaulding served as interim president from April to November 2012. Spaulding first came to MVNU in 2009 as provost and chief academic officer.
"It has been a pleasure to serve as MVNU president for the last four years," Spaulding said. "There will no doubt be challenges ahead, but I trust in the resources of the Christian faith and wisdom of the MVNU community as we move forward together. I want to thank my wife for her love, counsel, and passion for MVNU."
Prior to MVNU, Spaulding was professor of philosophical theology and Christian ethics at Nazarene Theological Seminary in Kansas City, Missouri, from 2007-2009, and served as the director of the Master of Divinity program. Spaulding has also served as a professor at Trevecca Nazarene University in Nashville, Tennessee; Eastern Nazarene College in Quincy, Massachusetts, and as a senior pastor at several churches.
Spaulding has also published several articles in the Wesleyan Theological Journal addressing and exploring the impact of the intersection of postmodern philosophy on Wesleyan-Holiness theology. He has also published two books on Christian theology and ethics.
Spaulding and his wife, Sharon, have three adult children, Shelly, Megan, and Henry III, and four grandchildren.