Dominican Church receives aid to help those struggling in its community
by
| 24 Sep 2020
Image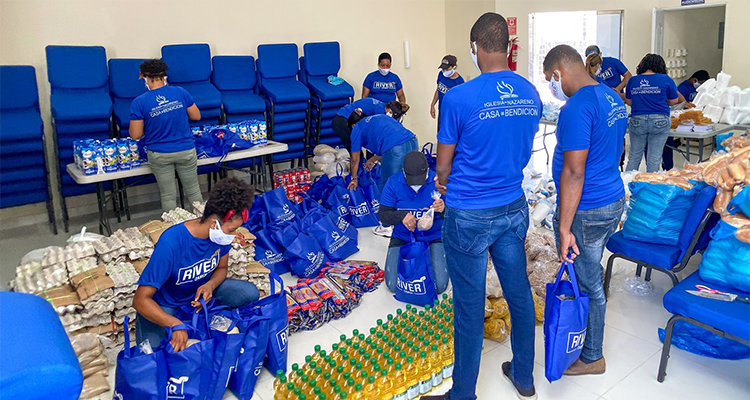 Iglesia del Nazareno Casa de Bendición in San Juan de la Maguana, Dominican Republic, was looking for new ways to continue reaching out to its community during the time of crisis due to the COVID-19 pandemic. 
At the same time, River-Church in Anaheim, California, was looking to support churches or initiatives that contribute to its communities with a project called "My People." Casa de Bendición applied and received approval. The funds it received benefited some 150 families with limited resources.
River-Church seeks churches or ministries that want to access the funds but also show a compassionate and active lifestyle toward their communities. Casa de Bendición met this and other requirements along with its action plan. The plan consisted of delivering basic supplies to low-income families, an action it has already carried out in the past. After a while, Casa de Bendición received a call with information regarding the approval of its proposal and transfer of the funds to the ministry's account.
The local church also contributed a monetary offering in addition to time and work in the assembling and distribution of the food and care packages. These joint efforts allowed the church to deliver supply packages to 150 families in several nearby communities.
The church's pastor, Benny Sánchez, said that many people expressed thanks for the food and care package and were grateful they could cook and enjoy meals. One of the recipients of the packages said: "This is a help for us because we need it with this pandemic. Here, there are people who are unemployed and this is a great help for this sector."
The package contained: rice, beans, sugar, noodles, oil, sardines, milk, eggs, bread, soap, chlorine, and masks. In addition, the church delivered the Gospel of John along with a written message inviting the people to give their lives to Christ.
"We thank the local church team who accompanied us," Sánchez said. "And of course, we also appreciate the trust of River-Church for supporting us even without knowing us personally. To God be the glory for what He does and will continue to do in our life and ministry, keep praying for us!"