Remembering Adeline Owens
by | 30 Sep 2019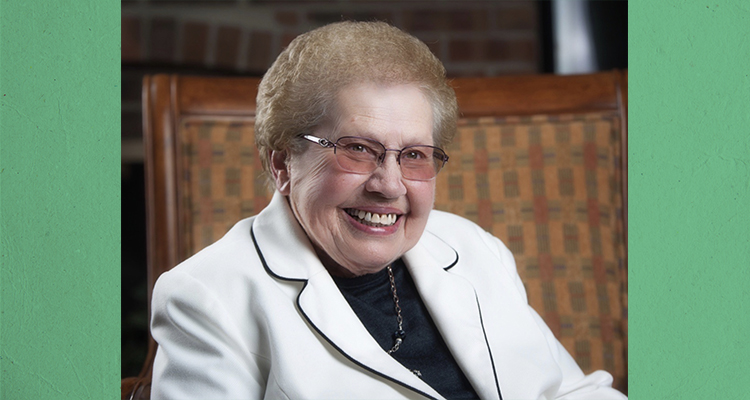 Adeline Lois Owens, pioneer missionary to Korea and wife of General Superintendent Emeritus Donald Owens, passed away 26 September 2019 at the age of 89.
She was born 3 March 1930 in Augusta, Kansas, and grew up in Wichita, Kansas. In 1949, Adeline enrolled at Bethany-Peniel College (now Southern Nazarene University) in Bethany, Oklahoma, where she met her future husband, Donald Owens. After Adeline graduated with a Bachelor of Arts in Religion, Adeline and Don were married 30 May 1951. 
In 1952, Don became the pastor of the Church of the Nazarene in Fairbury, Nebraska. During this pastorate, the couple applied to become missionaries for the Church of the Nazarene. The Owens were assigned in 1953 as pioneer missionaries for the Church of the Nazarene in the Republic of Korea to establish a Bible training school in Seoul, which is now Korea Nazarene University.
The couple arrived in May of 1954 and developed a three-year curriculum. The school opened in September with Don as president, and he and Adeline were the only teachers for the school's 23 students.
In 1965, the Owens family returned to the United States for their yearlong furlough and accepted an offer for Don to become professor of missiology at their alma mater, Bethany Nazarene College. The Owens went back to Korea for a year in 1971 before resuming their responsibilities at Bethany Nazarene College. While Don completed a Doctorate of Philosophy at the University of Oklahoma for the next three years, Adeline served as a translator and typist and parented their daughters. The family relocated again in 1975, this time to Kansas City, Missouri, for Don to serve as a professor of missions at Nazarene Theological Seminary while Adeline taught fourth grade.
Two years later, Don was elected president of the church's graduate-level seminary for the Asia and Pacific regions, now known as Asia-Pacific Nazarene Theological Seminary. In 1981, Don was also elected director of the Asia and South Pacific regions, and that summer the Owens moved to Manila to establish the regional office.
In 1985, Don was elected the second president of MidAmerica Nazarene College (now University) in Olathe, Kansas, and Adeline was first lady. MNU alumni describe Adeline as gracious and kind to students and a joy to be around.
"Adeline's strong faith in Christ and commitment to prayer was vital during some challenging years in our history," said MidAmerica Nazarene University President David Spittal. "Her influence and strength was evident throughout her life, and MNU has been blessed by her legacy and testimony."
At the 22nd General Assembly of the Church of the Nazarene in 1989, Don was elected general superintendent of the Church of the Nazarene. He served eight years, and Adeline often accompanied her husband in his global travels.
After retirement, Don and Adeline lived in Bethany, Oklahoma, from 1998 until 2003, at which time they relocated to Olathe, Kansas.
Adeline Owens is survived by her beloved husband and four daughters, Donna Bean, Deborah Bohi, Darlene Conyers, and Dorothy Owens, sons-in-law, and grandchildren.
A celebration of life will be held 12 October at College Church of the Nazarene in Olathe, Kansas.
--Information courtesy of Steve Walsh, Asia-Pacific regional correspondant, and MidAmerica Nazarene University