Nazarene Archives receives Mosteller collection
by | 25 Sep 2019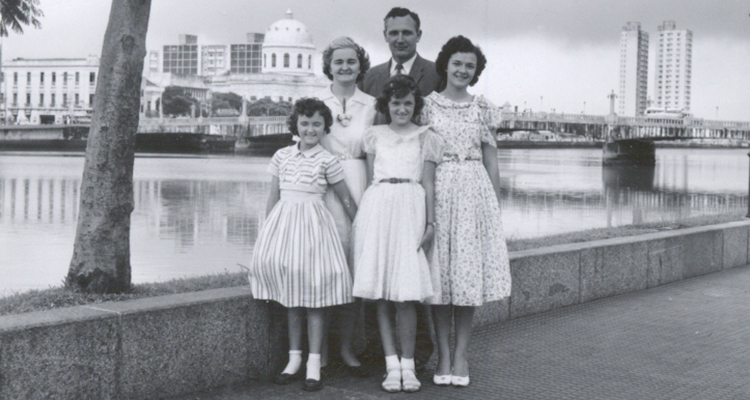 The Nazarene Archives received a significant collection of Earl and Gladys Mosteller materials this month. The diverse collection of over 50 cubic feet includes different types of correspondence, notebooks, reports, artifacts, and hundreds of photographs. 
The couple served as missionaries in four Portuguese-speaking nations: Cabo Verde (1946-1958), Brazil (1958-1974), Portugal (1974-1983), and the Azores (1983-1989).
"The Mostellers played a significant role in the Church of the Nazarene's mid-twentieth century expansion," said Stan Ingersol, Nazarene archivist. "Thanks, especially, to Liz Ott, a daughter, who spent weeks filling a moving pod with boxes and footlockers."
Earl planted the first Nazarene congregation in Brazil in Campinas, a suburb of metropolitan São Paulo. Current missionary Stephen Heap notes that "the initiative (to begin work in Brazil) was scheduled for 1958 as a part of the denomination's Golden Anniversary celebration. With the visionary leadership of the Mostellers and other pioneer leaders, the Nazarenes established a dynamic base." Earl's roles in Brazil included pastor, district superintendent, and field director. 
Sandro Hayakawa, biographer, notes that their "great pastoral experience contributed" to the success of the mission in Brazil (The Mostellers: Life and Preaching of Earl and Gladys Mosteller, 2010). Others, including national preachers, built upon the base they laid, and there were 140,089 Nazarenes in Brazil by late 2018, with Central Church in Campinas being one of the largest Nazarene congregations in the world. 
Heap observes that "scholars interested in researching the factors that fostered early Nazarene growth in Brazil will find answers in Earl Mosteller's notes from the pioneer era." 
After pastoring in four world areas, they retired to Seattle, Washington, in 1989. Earl died in 2015 at age 97, and Gladys passed away the following year at age 99.
"This collection is a rich acquisition for Nazarene Archives, since Earl and Gladys Mosteller were among the best-known missionaries of their generation," Ingersol said. "For thousands of Nazarenes, their lives represented the highest ideal of Christian service. Moreover, the size, scope, and extent of this collection will be valuable for those in the future who will study the expansion of Protestantism in South America."