APNTS celebrates 2019 graduation ceremony
by | 10 May 2019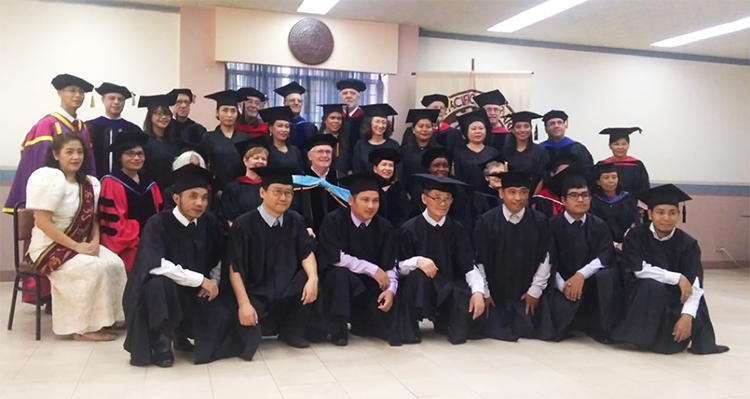 The 34th annual Asia-Pacific Nazarene Theological Seminary graduation and commencement was held 4 May at the seminary in Taytay, Philippines. There were 27 graduates from seven nations, bringing APNTS's lifetime graduation count to 561. Currently, APNTS graduates serve in more than 27 nations, including several creative access areas.
"This is our first year to graduate students from [places as far as] Germany and Kenya," said Dick Eugenio, APNTS academic dean. "Three [of the graduates] are candidates for Doctor of Philosophy — the largest batch we have had so far."
Theresa Roco Lua, general secretary of the Asia Theological Association and dean of the Asia Graduate School of Theology, was the commencement speaker. AGST Philippines Dean Romerlito Macalinao presented the doctoral degrees alongside APNTS President Bruce Oldham, while Oldham presented the diplomas, certificates, and master's degrees.
Oldham, who recently accepted a pastorate in Florida, was honored during the ceremony for his contributions to APNTS during his nearly three years of leadership. Keith Killen was announced as the officer in charge until a new president is elected.
The Cunningham APNTS Award of Academic Excellence, which recognizes those graduating summa cum laude or magna cum laude, was reintroduced this year. Nineteen graduates from 2008 through 2018 and 2019 Masters of Divinity graduate Jairo Rodriguez Bustamante were announced as awardees.
Fiji District Superintendent and General Board President Kafoa Muaror was honored for his years of service as APNTS Board of Trustees chair. Nativity Petallar was promoted to Professor of Christian Education, and professors Peggy Oldham, Carol Bestre, and Clark Armstrong were recognized at the ceremony as they transition into other ministries.