Cultivating community: Ministry in Argentina grows relationships
by | 13 Nov 2018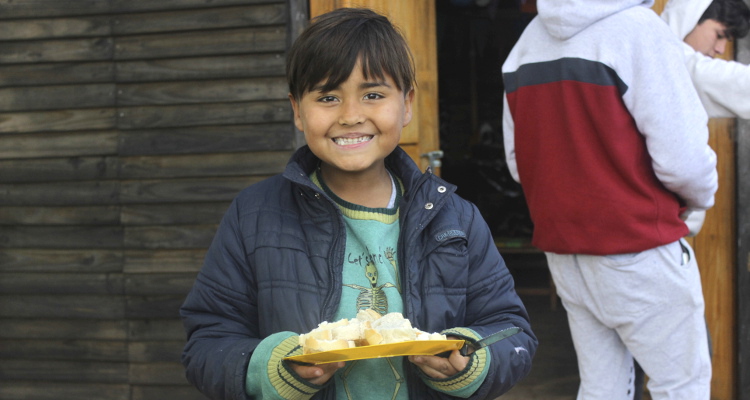 For the past five years, Fátima, the smallest town in Pilar, a district of Argentina, has been a place of steady growth — spiritually, socially, and horticulturally — through Encuentro Orgánico (which translates to "Organic Meeting"). Since its inception, the ministry has provided a restorative space for people to learn about and encounter God, each other, and creation. 
The hub of the ministry is its food forest, which grows both aesthetic and functional organic permaculture. The garden itself boasts 30 fruit trees and more than 60 different edible plant species. 
But what's sown in the neighborhood goes deeper than vegetation. At the root of this ministry is community. It was created to serve and invest in the people of Fátima, which is demonstrated through the many other pieces of Encuentro Orgánico: adult and teen Bible studies, prayer meetings, shared meals, and other activities centered on the community.
Meeting needs
In fact, a garden wasn't part of the original vision. After partnering with engineering students from Northwest Nazarene University to design a greenhouse, the group was granted centrally located property by the municipal government in May 2015. 
"That pushed us into gardening," said David McKeithen, who helped found Encuentro Orgánico. 
David, a Point Loma Nazarene University alumnus, runs the group along with his wife, Keila. The ministry serves low-income residents who live in the marginalized area of Fátima. Dirt roads and lack of central sewage are the norms there, and many houses are built — or half-built — of hollow brick, pallet wood, or tin. Running water is rare. While parents work during the day, many of the children are left at home alone. There are two public schools nearby, but sometimes teachers don't show up, or students struggle and drop out.
It is here that the residents of Fátima are building community and trust. The garden provides a place for people living without resources to learn about plants and a healthy diet, but it's also a place where the whole family can participate.
Johanna Radi, who is part of the team at the core of Encuentro Orgánico, volunteers in the children's activities. 
"The children are involved and want to learn," Radi said.
Saturday mornings feature VBS-inspired "Fiesta en Casa," followed by a potluck-style lunch. A lot of the kids come from broken families, have experienced abuse, or have parents who work all day. 
"This is a space where children can experience love and care," David said.
The ministry continues to grow, with group members even serving outside the organization. They come together on their own to meet the needs of the neighborhood, like assisting the sick and bringing food to those in need.
"The attitude of the whole group is naturally selfless," Keila said.
Seeing transformation
The ministry also helps foster healthy relationships and transforms families. In February of last year, the group built a pallet wood cabin. That project was led by Gerardo, a local who accepted Christ after attending a spiritual retreat organized by a church in Pilar. Before that, his wife, Katy, hosted a weekly Bible study at their home, and their youngest two daughters attended the VBS program. Now, most of the family members are baptized and involved in the ministry.
"God has restored Gerardo and Katy's marriage, and Gerardo has grown immensely on a personal level and is currently one of our leaders, (as is Katy)," David said. 
Though the group is not an organized church, it works in complementary ways with the local Church of the Nazarene, where many group members attend on Sunday mornings. Encuentro Orgánico hosts a monthly Sunday night service, providing a space for adults and kids to gather in a circle and participate in worship music and conversational prayer and listen to a sermon.
During offering, the kids present what they harvested in the garden prior to the service. The service concludes with a meal. 
"There's something about the mentality of eating together — transmitting values and worldviews," David said.
Encuentro Orgánico is supported by donations and run by volunteers and local residents, who help with the garden, build structures — recently a bathroom — and lead activities. The leaders meet on a bi-weekly cadence, where they check in, discuss progress and concerns, come up with new ideas, and commune together over dinner. 
The shared neighborhood life is fundamental to Encuentro Orgánico, David says. The challenge is to take the church outside of the walls of a building. 
"I've always thought of Fátima as 'wild spaces' — the church embodying God in these places on the margins," David said.
--Republished with permission from the Winter 2018 edition of NCM Magazine
To read more stories of compassion, visit ncm.org to subscribe to NCM Magazine and receive future issues as they are released.