Congo West superintendent steps down after 15 years
by | 30 Oct 2018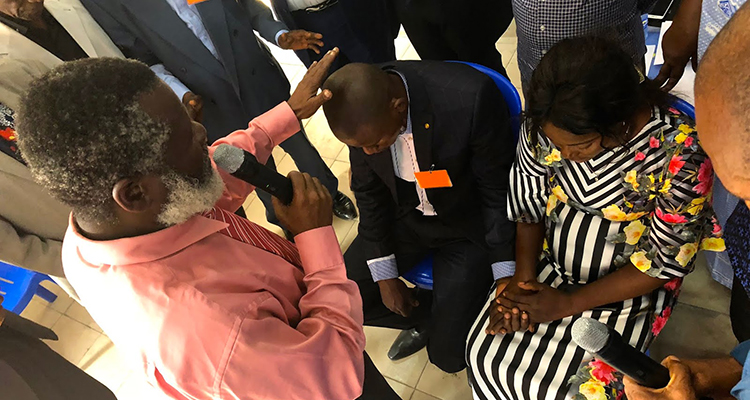 During the 20th Democratic Republic of Congo West District Assembly on 13 October, Hermenelgilde Matungulu resigned as superintendent of the Congo West District after 15 years of service. He is passing the baton off to Dieu Merci Nzola. 
Matungulu is a respected leader on the district. He continually trained local leaders and planted many churches throughout his ministry. 
 "Rev. Matungulu, we honor you for your years of service to God and the Church," said Jill Fothergill, a missionary on the Africa Central Field. "We pray God's richest blessings upon you as you continue to follow Him and serve Him. May you continue to share your testimony and lead others into a right relationship with Christ."
Jill also had words of encouragement for Matungulu's successor.
"Rev. Nzola, we congratulate you," Fothergill said. "May the Lord grant you wisdom, vision, and strength as you lead God's people in DR Congo West District. May the Lord's face shine upon you as you shepherd multiple pastors, evangelize, and take on new responsibilities within the Church."
She went on to ask the district to continue supporting and encouraging new leaders in Africa as they have in the past.
"To the DR Congo West District, we implore you as dearly loved brothers and sisters in Christ, may you know the love of Christ and be ready for the future ahead," Fothergill said. "We are so grateful for the amazing example given by the West Congo District and are hopeful that other districts will follow suit when it comes to leadership transition and empowering the next generation."