Virginia church opens doors to a hurting community, aims to be part of solution after Charlottesville
by | 18 Aug 2017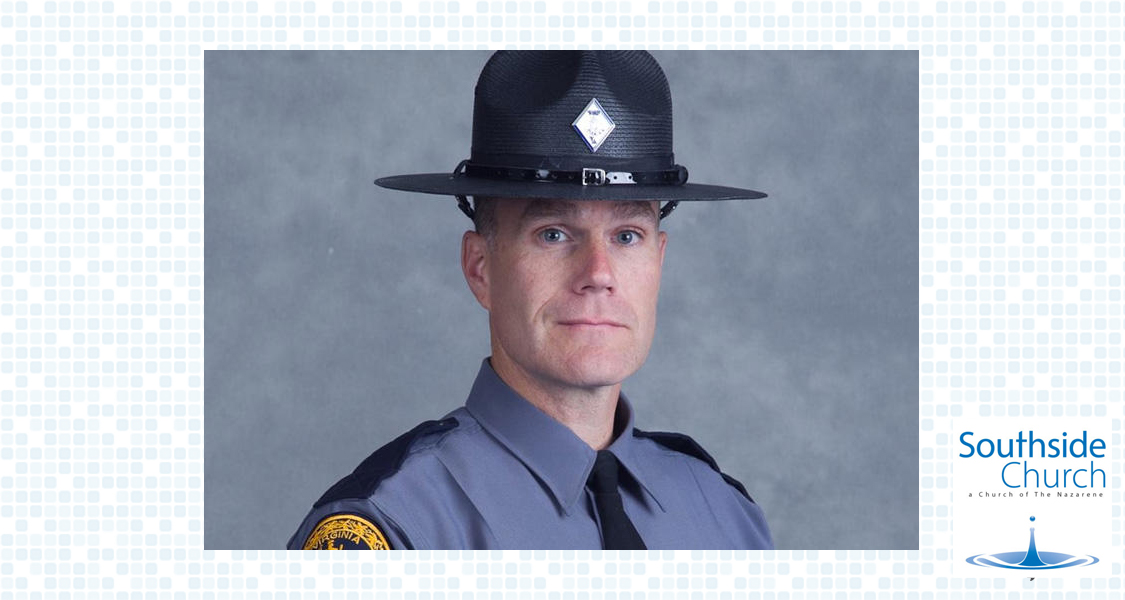 Nazarene Pastor Wynne Lankford believes his Chesterfield County, Virginia, church is not only a place of worship but also a center for the community.
The doors of Southside Church of the Nazarene are open for a variety of community events, often including memorial services for first responders that require a large venue. On Saturday 19 August, Southside Church will again host a memorial service, this time for Virginia State Trooper H. Jay Cullen.
Cullen, 48, and fellow Trooper Berke Bates, 40, were killed 12 August when the helicopter they were piloting crashed in nearby Albermarle County. The two members of the Virginia State Police were assisting with public safety from the air during the highly controversial "Unite the Right" rally in Charlottesville.
Heather Heyer, 32, was also killed and 19 others injured after an Ohio man drove into a group of protesters with his vehicle during the rally, which took place a little over an hour away from Southside Church.
Cullen, who was the commander of the State Police Aviation Unit, lived in Chesterfield County with his wife, Karen, and two sons. His family attends a local United Methodist church, but a larger facility was needed for his memorial service and Southside Church of the Nazarene is one of the largest facilities in the area.
Pastor Lankford, who serves as one of the chaplains of the Chesterfield County Police Department, offered his church.
The building normally seats about 1,000 in the auditorium, but with overflow seating can accommodate 1,400-1,500 people. Cullen's friends, family, supporters, state and community leaders, and representatives of police departments around the U.S. are expected to be in attendance. The state police is working with Southside Church on logistics for the service.

"We are opening our doors and our staff is becoming the extended staff of the Virginia State Police," Lankford said. "Our heart here is to be a community center and open our doors for the community. Any opportunity we have, we will open our doors — wide open. We can allow people to come in and minister to them and care for them. We're here to serve the local community."
Southside Nazarenes will help Saturday with overflow seating, extended parking, and parking flow, as well as provide shuttles to and from the church, greet attendees, usher, and more.
Lankford said he told his congregation that if they had a relationship with the Cullen family to come to the service. If they did not know the family, "come and serve." Others are encouraged to support the family and community by watching the service online (stream opens at 9:45 AM EST, with funeral service starting at 10).
Lankford called Lt. Cullen's death a "significant loss for the police family and for the county — he's part of this community."
As Virginians attempt to recover from the Charlottesville violence, Lankford said the feeling in their part of Virginia is "tense" with a "racial divide."
In response, the pastor will ask his congregation and community on Sunday to pause and talk about "reconciliation through love and justice."
"What can we do to be part of the solution?" he asked. "Don't be part of the line drawing. Slow down and be the Body of Christ, because people around us are looking for someone to provide a loving touch and not an angry tone of rhetoric.
"Stop the drama and be part of the solution."
It starts with an open door.
Related: The following addition to the Church of the Nazarene's statement on discrimination in its Manual was adopted at the 2017 General Assembly in June. The statement was sponsored by the Kansas City and Virginia districts of the USA/Canada Region. (Download PDF)
RESOLVED that Manual paragraph 903.2 be amended as follows:
903.2. Discrimination
The Church of the Nazarene reiterates its historic position of Christian compassion for people of all races. We believe that God is the Creator of all people, and that of one blood are all people created.
We believe that each individual, regardless of race, color, gender, or creed, should have equality before law, including the right to vote, equal access to educational opportunities, to all public facilities, and to the equal opportunity, according to one's ability, to earn a living free from any job or economic discrimination.
We urge our churches everywhere to continue and strengthen programs of education to promote racial understanding and harmony. We also feel that the scriptural admonition of Hebrews 12:14 should guide the actions of our people. We urge that each member of the Church of the Nazarene humbly examine his or her personal attitudes and actions toward others, as a first step in achieving the Christian goal of full participation by all in the life of the church and the entire community.
We reemphasize our belief that holiness of heart and life is the basis for right living. We believe that Christian charity between racial groups or gender will come when the hearts of people have been changed by complete submission to Jesus Christ, and that the essence of true Christianity consists in loving God with one's heart, soul, mind, and strength, and one's neighbor as oneself.
Therefore, we renounce any form of racial and ethnic indifference, exclusion, subjugation, or oppression as a grave sin against God and our fellow human beings. We lament the legacy of every form of racism throughout the world, and we seek to confront that legacy through repentance, reconciliation, and biblical justice. We seek to repent of every behavior in which we have been overtly or covertly complicit with the sin of racism, both past and present; and in confession and lament we seek forgiveness and reconciliation.
Further, we acknowledge that there is no reconciliation apart from human struggle to stand against and to overcome all personal, institutional and structural prejudice responsible for racial and ethnic humiliation and oppression. We call upon Nazarenes everywhere to identify and seek to remove acts and structures of prejudice, to facilitate occasions for seeking forgiveness and reconciliation, and to take action toward empowering those who have been marginalized. (2017)