Nazarenes in the News: May 2020
by
| 29 May 2020
Image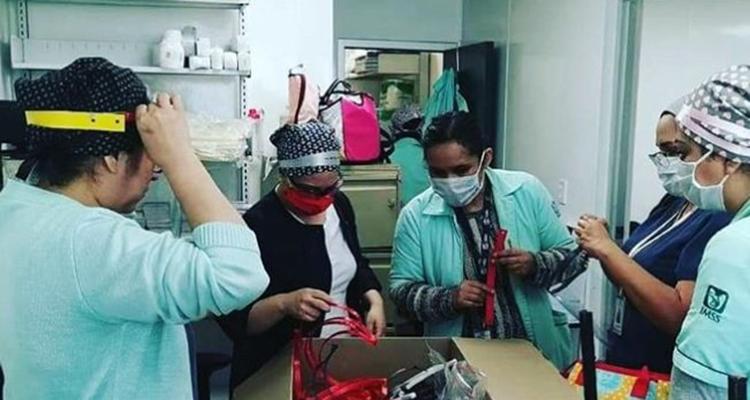 Nazarenes in the News is a compilation of online news articles featuring Nazarene churches or church members.
PLNU uses 3D printers to make face shields for medical personnel
San Diego, California
(Viewpoint, 13 May 2020) What started as an experiment in trying to design personal protective equipment (PPE) for a few people quickly turned into a humanitarian effort that brought PLNU community members together to supply 650 face shields and counting for healthcare workers in Mexico across nine hospitals and clinics.
Ryan Botts, Ph.D., is a professor in the Department of Mathematical, Information & Computer Sciences (MICS) at Point Loma and initiated this project somewhat unintentionally. A nurse who lives in his neighborhood had explained that her hospital had faced a shortage in PPE when the outbreak of COVID-19 first began. Botts knew that PLNU's 3D printers might be able to help and were available since classes were being taught virtually due to the pandemic. He decided to experiment with plans he found online to try and help. 
For the rest of the story, click here.
Missouri church helps feed the community during COVID-19 pandemic
Webb City, Missouri
(KSN News, 9 May 2020) A local church community is taking matters into their own hands to feed the community during the pandemic. Church of the Nazarene in Webb City held a food give away Saturday morning in their parking lot. Visitors received a bag of food containing bread, meat, juice, veggies, and a small dessert.
Last week, the church was able to distribute a hundred bags of food, all thanks to donations from area organizations.
For the rest of the story, click here.
NNU makes face masks for hospitals using 3D printer
Nampa, Idaho
(Idaho News, 2 April 2020) Northwest Nazarene University is helping medical workers during the coronavirus pandemic. University engineers discussed their novel solution to the protective equipment shortage. Their equipment is not ordinary. It may look the same, but it's made by a 3D printer.
Brice Allen, a manager at NNU, knows this is only the beginning.
"For those that are on the front lines, everyone here at NNU is really praying very hard for them. We're praying for their safety," Allen said.
For the rest of the story, click here.
A walking, talking miracle: COVID-19 patient released from Texas hospital
Temple, Texas
(Temple Daily Telegram, 13 May 2020) Domingo Montalbo walked out of Baylor Scott & White Continuing Care Hospital in Temple with the assistance of a cane to a crowd of people cheering him on and waving signs. Montalbo was hospitalized on April 1 with COVID-19.
Beth Booth and Crystalyn Cook, members of Temple First Church of the Nazarene, were two of many members of the congregation that showed up Wednesday to cheer their fellow congregant on as he exited the hospital.
For the rest of the story, click here.
Nazarene school in Texas holds parade for teachers
Crowley, Texas
(CBS11 DFW, 13 May 2020) 
Michigan church uses missions funds to help local essential workers
Brighton, Michigan
(Livingston Daily, 10 May 2020) The Brighton Church of the Nazarene, through donations from its members and mission funds, purchased the food to show support for essential workers who may be overlooked, Christina Vandeveer said.
"The church as a whole, our mission is to always give back and help the community," she said. "The staff took a look a look at local businesses… who can we bless?"
For the rest of the story, click here.
Virginia church gives way free dinners to homeless at Salvation Army
Charlottesville, Virginia
(CBS19 News, 9 May) Ground Zero at the Charlottesville First Church of the Nazarene gave away free barbecue dinners to homeless people at the Salvation Army on Saturday. The church partnered with Old Virginia BBQ to make enough meals for 300 people.
For the rest of the story, click here.
Washington church creates prayer hotline
Nanches, Washington
(Yakima Herald, 25 April 2020) The Naches Church of the Nazarene is providing prayer and encouragement for those feeling lonely and isolated, according to a news release.
For the rest of the story, click here.
Stories to share? Send them to news@nazarene.org
--Compiled by Nazarene News