California W&W team expands missions trip in wake of COVID-19 pandemic
by
| 17 Jun 2020
Image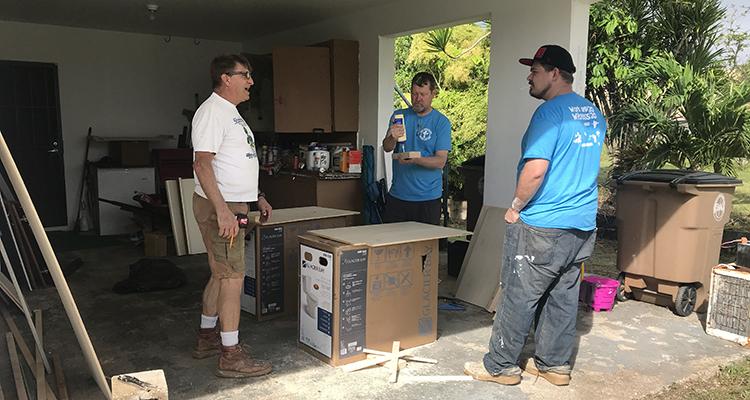 A Work & Witness team from Glendora Community Church of the Nazarene was waiting to board a flight to the island of Chuuk when an announcement came over the airport loudspeaker: Chuuk had banned all flights from countries with COVID-19 cases, including the USA, effective immediately.
"We couldn't believe it," said Janet Wilkins, the Work & Witness coordinator for the trip. "Their luggage was on the plane."
The team regrouped at Guam Church of the Nazarene and quickly began to look for alternate plans.
"GCC wanted to work," Wilkins said. "They had taken two weeks off work to serve. They had planned for so long."
The group from Glendora, California, had begun planning the trip nearly two years prior, and they weren't ready to give up. Three of the group members had previously served at Kahului Nazarene in Maui, Hawaii, so they decided to pivot the trip location. After a phone call to the church, Pastor Tim Cruz helped organize housing for the team and found ways for them to serve the community. 
The team had to wait nearly two days for a flight from Guam to Hawaii. For the next 36 hours, they looked for things to do at Guam Church of the Nazarene. Wilkins said they finished several projects for the church, including installing new whiteboards, building cabinets, and fixing leaky roofs. 
When the team arrived in Hawaii, they discovered their work in Kahului would largely be with the same people groups they had planned on serving in Chuuk. Kahului Nazarene's outreach is to people from Chuuk and the surrounding islands of Pohnpei and Yap that have moved to Hawaii. They were able to reach out to the kids and youth in that town, which happens to be 80 percent Micronesian.
"Our trip did not go as planned," said Matt Bolt, a member of the team from GCC. "It went better than planned. We helped two churches with manual labor, spent a lot more than $10,000 [in supplies], and got to love on people and sing worship in Micronesian languages. We might have missed physically being on Chuuk Island, but God gave us the people." 
While the GCC team moved on to Hawaii, the Wilkins were able to travel with the supplies, hire a construction team, and finish the project that GCC was scheduled to complete. 
"We can plan all the details and dream of what it might look like, but our Lord is sovereign and good in His plans," Wilkins said. "He turned this trip from being a COVID-19 disaster into a way to minister to Micronesians in three separate locations."