South Texas churches combine resources to sponsor church plant
by | 19 Sep 2019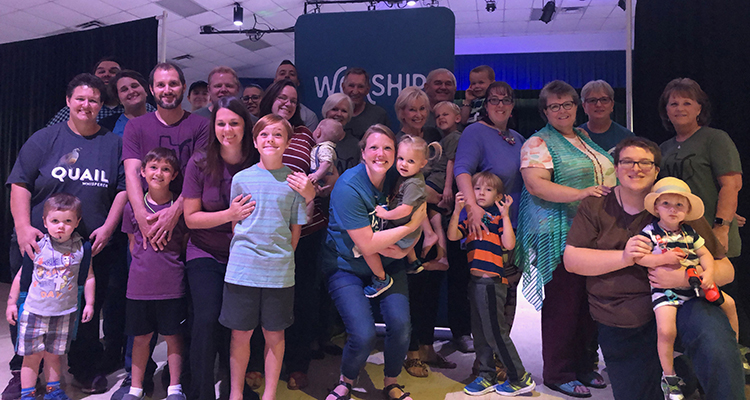 While on his way to a church planting training in San Marcos, Pastor Jake Isbell felt like God was telling him to pull over his car. He obeyed and began to realize what God was placing on his heart: the City of Jarrell.
"Once we started telling the district that our eyes were on Jarrell, [we learned] there [were] two churches that had been praying about starting a church in Jarrell: Temple and Georgetown Church of the Nazarene," Isbell said. "We started talking with them and they said, 'Man, we've been praying for someone to be called to Jarrell and we want to be a part of this.'"
The vision for a church in Jarrell didn't just stop at those two congregations, however. The entire North Mission Zone in the South Texas District stepped up to help plant the church by pooling volunteers and resources, including chairs, musical instruments, and other equipment.
Roughly 20 people from the Belton, Killeen, Georgetown, and Temple congregations volunteered as launch team members to help with events and preparations up to a year in advance of the opening.
"For some time, these area churches have been asking one question, 'What can we do better together?'" said Pastor Darin Pound of Temple Church of the Nazarene. "With the birth of this new congregation, they have realized what is possible and that together they are better."
The new church, Wayfinders Jarrell, opened 8 September with 121 in attendance at the inaugural service. It joins Kyle and San Marcos as the third Wayfinders church, a South Texas District initiative to plant more than 30 churches in communities along the I-35 corridor.
With two large metropolitan areas in Austin and San Antonio just separated by 80 miles of highway, smaller communities along the I-35 corridor are experiencing exponential growth, including Jarrell.
"We started looking around and seeing that this is a completely different Jarrell than what I grew up in," Isbell said.
Jarrell's growth has come so fast that the city has yet to annex the new housing developments into their city limits. While Jarrell's official population is around 1,500, there are nearly 15,000 people living within Jarrell's Public School District.
Isbell and other church leaders felt there was an obvious need in the city's newest communities, and a well-supported church plant was able to take hold due to the multi-church partnership.
"We built this church plant on a vision that large churches and districts and people with a lot of money aren't the only ones who can plant a church," Isbell said. "It doesn't take one large donor, it doesn't take a large organization; we can do this together on a grand scale even as a zone.
"The sad reality in a lot of Nazarene districts is that there are churches that maybe don't feel strong enough to plant… We see God's kingdom in a strong, corporate way. These are all God's resources, all of God's churches, and when we work together, we can do a whole lot more than [we could] individually."