14 rows fit your criteria.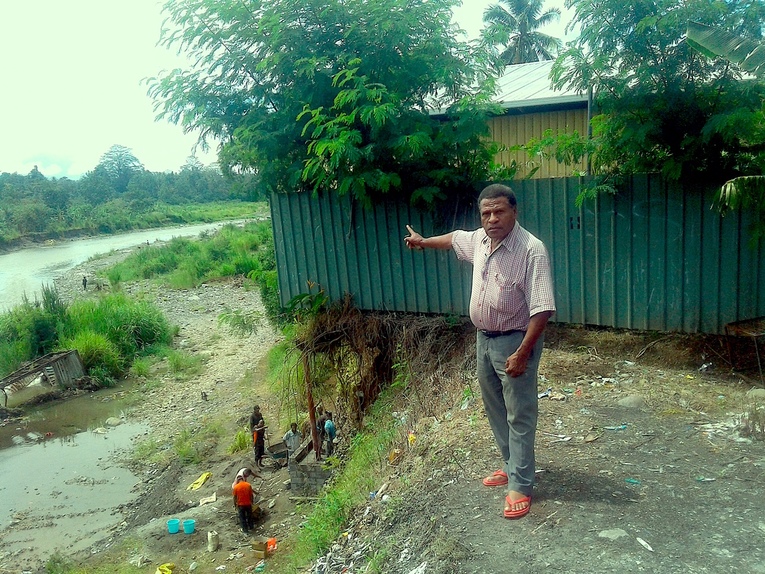 Giving Code: 133615
Region: Asia-Pacific
Area:
Cost(USD$): 20,000

About this project:
Huon Gulf Church of the Nazarene borders the Bumbu River on the north coast of Papua New Guinea. On the same property is a Nazarene school associated with the church, Lae Christian Academy. This school hosts hundreds of international students each year.
In recent years, the Bumbu River has continued to flood causing erosion to its banks and placing the church and school buildings in danger progressively over a 25 year period. Engineers consulting the church have produced a solution that t...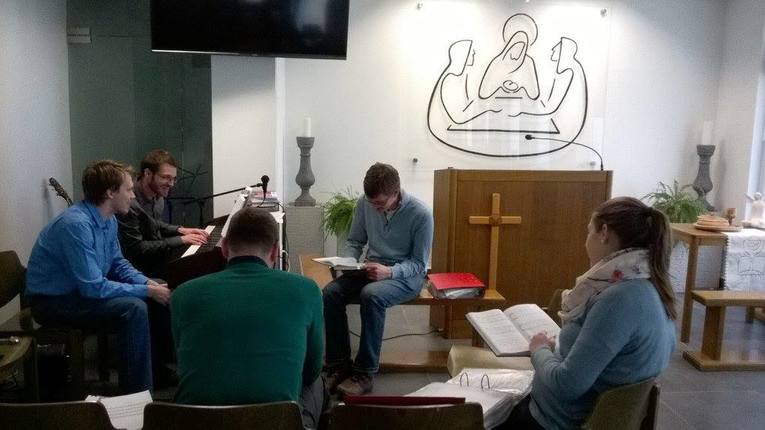 Giving Code: 132870
Region: Eurasia
Area:
Cost(USD$): 3,600

About this project:
Each week, people in Budapest Hungary fill the small living room of a flat for fellowship and discipleship. This growing band of believers outgrew the space and rallied their resources to buy permanent space in 2015.
By God's grace, the site serves as the Názáreti Egyház Budapesti Gyülekezete church, the district center and library, and a publishing site. The congregation of 50 has made substantial investments to take the once small company ...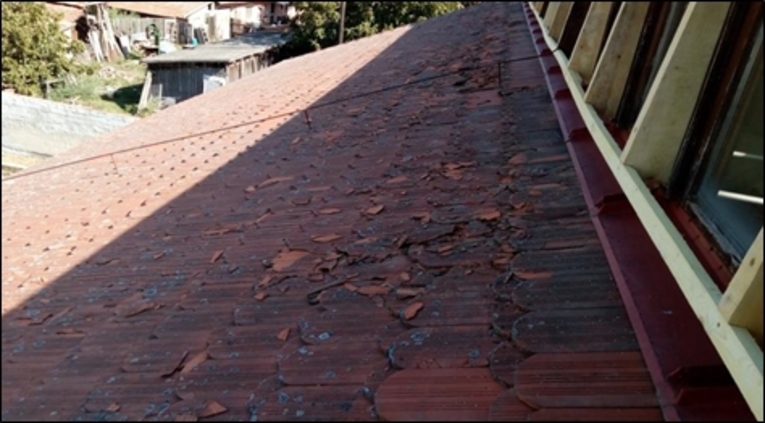 Giving Code: 132889
Region: Eurasia
Area:
Cost(USD$): 14,360

About this project:
Little protection is offered from the elements at the Hajduhadhaz, Hungary Church of the Nazarene. The roof of the building is damaged allowing water to seep inside creating additional structural harm. This is not an aesthetic issue, rather an outreach issue. Many evangelism and outreach events are pending. These opportunities are limited by a roof allowing water and snow to enter the building. The situation makes it difficult to have a crowd in the building. The temporary fix managed by the ...

Giving Code: 132681
Region: Africa
Area:
Cost(USD$): 10,000

About this project:
We believe district conventions are a vital part of the spiritual growth of our district. We have seen this growth on the Kenya Eastern District spiritually as well as numerically as our membership has increased over the years to total 2,413 members. We are excited to see God continue to work in powerful ways on our district.
However, the sanctuary we have used for District conventions is small. It cannot accommodate us anymore. In recent years we have rented space for con...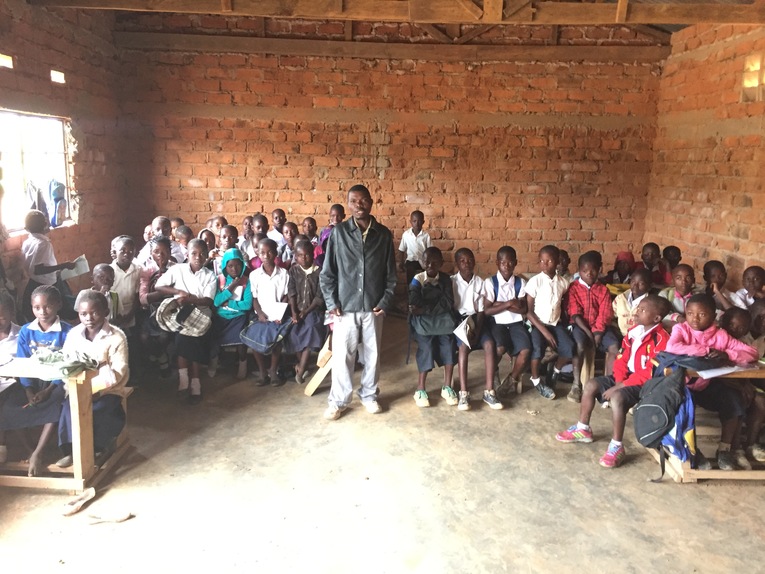 Giving Code: 132337
Region: Africa
Area:
Cost(USD$): 50,000

About this project:
We believe that God wants to provide our schools with better learning conditions. Throughout the Democratic Republic of Congo, there are more than 120 Nazarene schools that serve over five thousand students. Many of them function as a single-room school using the local church building. Other schools are renting buildings or are built out of branches and grass. We want to see our schools better equipped to serve the children that attend them. In some cases, this may mean adding a structure for th...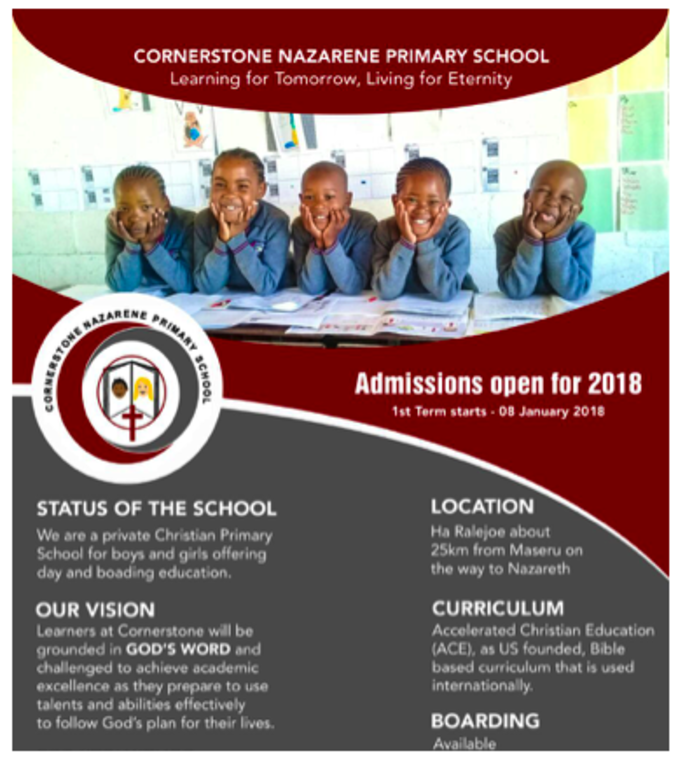 Giving Code: 132108
Region: Africa
Area:
Cost(USD$): 55,000

About this project:
Cornerstone Nazarene Primary School was established in 2017, in the village of Ha Ralejoe, in the country of Lesotho, Africa. Dreams and plans began many years before when Rev. Dale Stotler, missionary to Lesotho, became friends with the chief of Ha Ralejoe. The chief requested that Pastor Dale begin a church and school in the village and granted the Nazarene Church the land to do so. The school building was constructed at the end of 2012. God has had his hand of blessing for the opening of the ...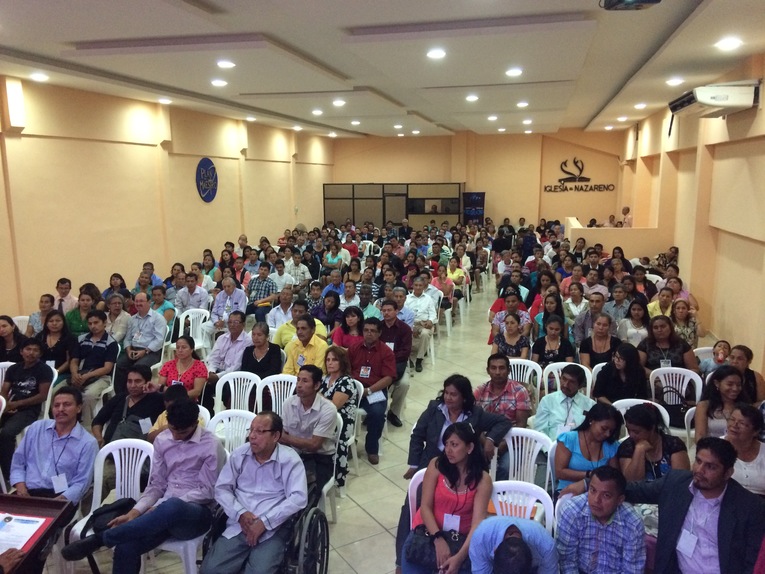 Giving Code: 128833
Region: South America
Area:
Cost(USD$): 250,000

About this project:
The city of Guayaquil is where the Church of the Nazarene began in the country of Ecuador in 1972. The city is the largest in the nation with over 4 million inhabitants. It is a port city located 40 kilometers from the coast on a large river. Many poor squatter communities have sprung up on the edges of the city. The El Sembrador Church was planted in the downtown area of Guayaquil using the Jesus Film Ministry in the early 2000s. As the church grew it changed locations due to needed space. Fina...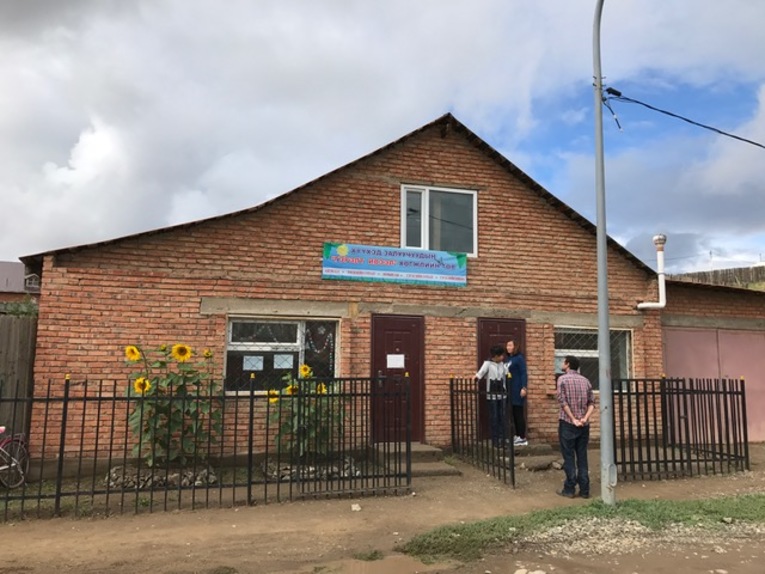 Giving Code: 128281
Region: Asia-Pacific
Area:
Cost(USD$): 50,000

About this project:
In the capital city of Mongolia, Ulan Bator, it is unusual for constructive activities for children and families to be offered outside the city center. Areas that are lower income often do not have access to these programs. The Church of the Nazarene first entered the nation of Mongolia in 2012 and wants to continue to grow the work by providing community programs that are accessible to people in these areas.
A property has now been purchased on the outskirts of Ulan Bator to be used...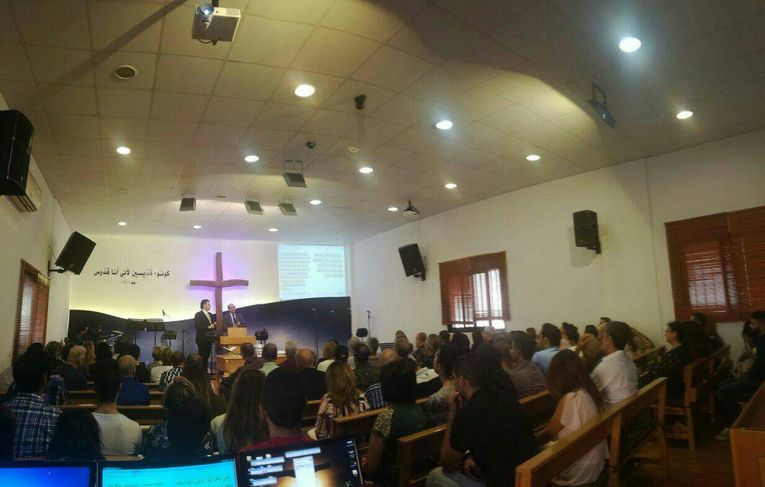 Giving Code: 128275
Region: Eurasia
Area:
Cost(USD$): 1,375,000

About this project:
In 2006, the founding church in Sin el Fil asked Ayman Kafrouny and his wife to start helping with a new project in an area where there are no established evangelical churches. This was the first step in what would become a journey to plant a new church in this area. Meeting together as a church in an apartment building, they started exploring the area at night, praying in every street for the Lord to show them a new place for their church. In 2008, they dedicated the new church building to the ...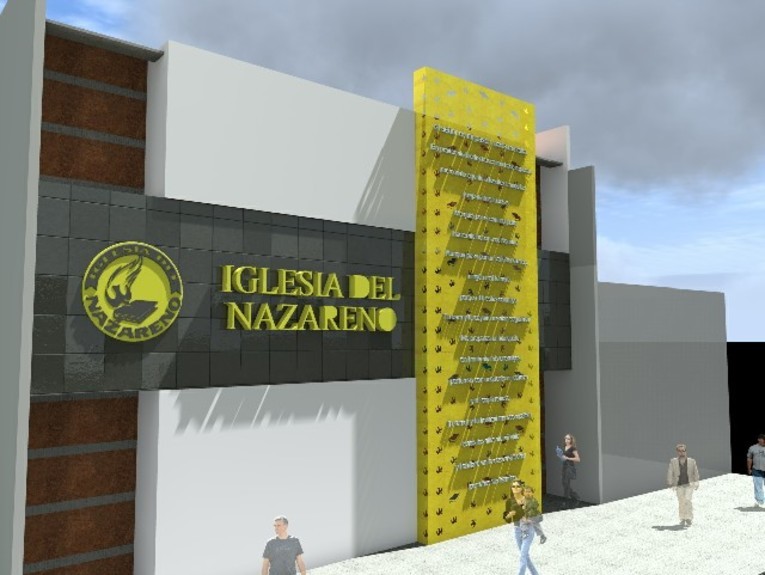 Giving Code: 127803
Region: South America
Area:
Cost(USD$): 800,000

About this project:
Because Jamundí, Colombia is near the Department of the Cauca, it is a municipality that suffers from the violence of various armed groups and criminal bands that promote a culture of terrorism and extortion toward families with businesses and independent work. The Church of the Nazarene has worked in this environment for the past 17 years promoting a message of forgiveness, restoration, and hope. Jamundí is a growing city because the city of Cali is extending its urban area toward...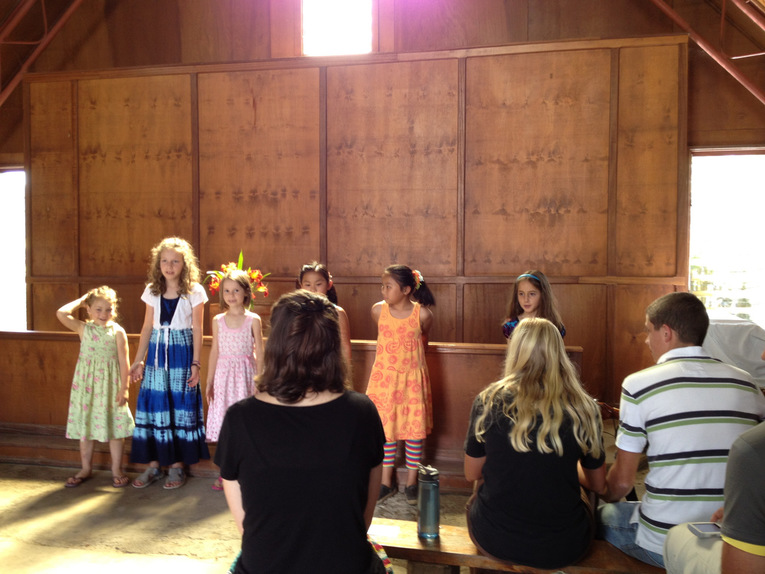 Giving Code: 12791
Region: Asia-Pacific
Area:
Cost(USD$): 50,000

About this project:
Life for Nazarene missionaries and their kids serving in Papua New Guinea is unique in many ways. Kudjip Nazarene Mission-Station is the only Nazarene Mission-Station in the world where as many as a couple dozen Nazarene missionaries and their families are assigned at any given time, with the Field office, Hospital and Nurses College all located right here. Deep in the interior of Papua New Guinea, this remote community is largely self-sufficient even producing its own electricity. Years a...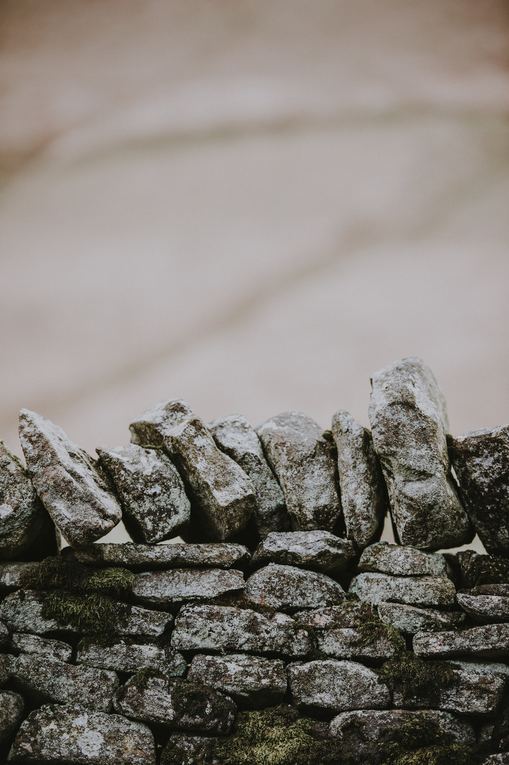 Giving Code: AFS1158
Region: Africa
Area:
Cost(USD$): 14,907

About this project:
Falls Church of the Nazarene in Lilongwe, Malawi was 2 acres when it was purchased in the 1970s. The immediate neighbors of the property are of another faith that is prominent in the community. Because there has been no wall to separate the two properties, there have been difficulties with the other faith group seeking to acquire the church's land for their use. This has caused discord between the two communities and has hurt the church's' ability to reach out in their...

Giving Code: 126783
Region: Asia-Pacific
Area:
Cost(USD$): 30,000

About this project:
This community center will provide classes for children, youth and adults with the desire to develop life-changing relationships. It also provides a means for team members to stay on the field. Funds given to this special will help supplement operational costs and provide scholarships for low-income families...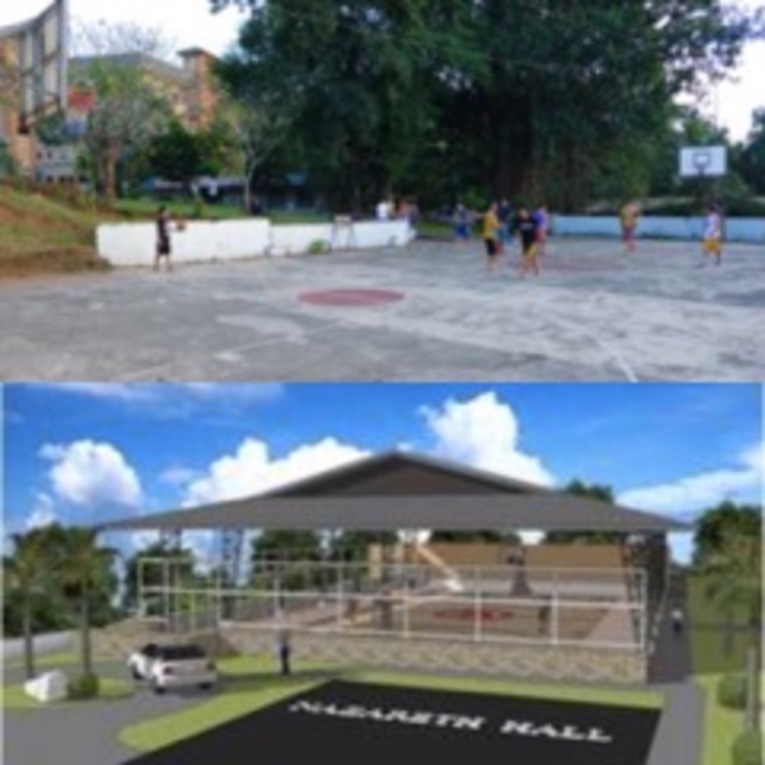 Giving Code: 126720
Region: Asia-Pacific
Area:
Cost(USD$): 95,000

About this project:
An existing outdoor concrete court needs to be repaired and resurfaced, court lines repainted, and new basketball goals installed, with a covered roof structure, seating bleachers, and lights added if funds become available. This is the primary recreational area for APNTS students, and, in a country that loves basketball, can also be utilized as an outreach tool to young people in our community and an added attraction for groups renting Nazareth Hall for conference and retreat space. An upgrade ...

English